07 Jun

CASA visits CWIT with SLPA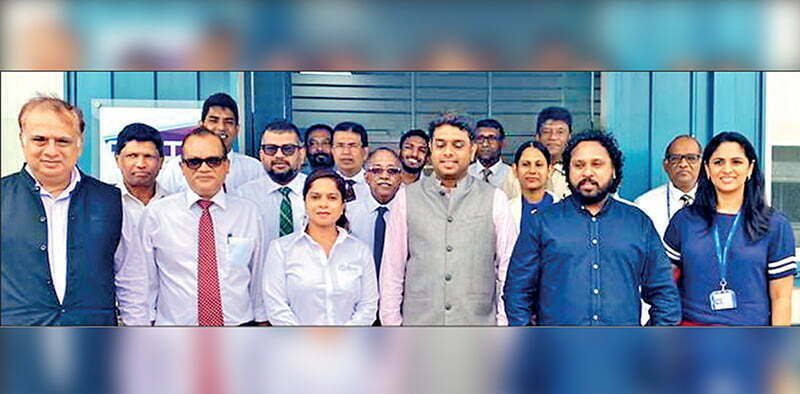 The Ceylon Association of Shipping Agents (CASA) recently paid a visit to the project office of the proposed Colombo West International terminal (CWIT) in the Port of Colombo.
Capacity expansion in the pre-eminent port of South Asia always excites the Shipping Industry in Sri Lanka. Terminal capacity expansion has, in the past, resulted in spurring growth and there is no reason CWIT will be any different.
CASA, the voice of the Shipping Industry in Sri Lanka representing global container liner companies, Feeders, as well as conventional and specialised vessel operators worldwide is encouraged to see WCIT very quickly off the blocks, to strengthen Colombo's position.
Some members of the Executive Committee of CASA with its Chairman met with the management of CWIT along with the SLPA Chairman and officials to discuss the development plans of the new terminal. CWIT is a joint venture between Adani International Holdings PTE (51%), John Keels holdings (34%), and Sri Lanka Ports Authority (15%).
CASA was reassured to learn about the terminals plans for capacity expansion enabling the Port of Colombo to further increase its transshipment volume and attract new direct services. The terminal will commence construction in July 2022 and will be developed in 2 phases.
Under Phase 1, which is due to be completed in 2024, CWIT is expected to have a quay length of 800 m which will be further extended to 1400 m under Phase 2 scheduled to be completed by 2026. CWIT will also provide for a draft of 20 m which will enable the terminal to handle the largest container ships afloat.
Phase 1 will see CWIT adding a further 1.5 million TEUs of handling capacity to the Port of Colombo which currently handles a capacity of over 7 million TEUs yearly, and upon completion of Phase 2, capacity will be enhanced to 3 million TEUs.
Furthermore, CWIT will be equipped with Semi-Automated Quay cranes, Automated Cantilever RMGs for yard operations and a fully automated gate complex, making CWIT one of the most advanced and futuristic terminals in the region.
Port of Colombo has, now for some time, felt the pressure of growing demand, particularly from large deep draft vessels and the CWIT will be well placed to enable Port of Colombo to cater to such growing demand with world class facilities supplementing SAGT, CICT and JCT/SLPA.
The growing catchment area for Port of Colombo being the Indian Sub-Continent (ISC) requires Port of Colombo to enhance capacity ahead of demand in order to maintain its position of the pre-eminent transshipment hub for the ISC.
It is predicted that the Indian container terminals will attain a capacity of 21.5 million TEUs by 2025, with a 6.5% growth rate every year (Ministry of Shipping). With the impact of different development programs, such as Make in India and Sagarmala, coupled with the development of industrial corridors and special economic zones, the traffic might touch 25 million TEUs by 2025.
With this in sight the POC is well positioned to complement ISC's growth projections with matching facilities, capacity, productivity, and convenience of being the best-connected port in the ISC for the regional importer and exporter. The gains to the Sri Lankan trade with capacity enhancement and berth opportunity will be a boon for our imports and in particular for exports.
The World Bank/S&P ranked Colombo as most efficient port in South Asia, No. 1 in South Asia/ISC and No. 22 among 370 ports globally in the second edition of the Global Container Port Performance Index (CPPI) 2021. The Port of Colombo recorded an all – time high throughput of 7.25 million TEUs in 2021 and continues its growth story, registering a year-on-year growth of 2% for the first five months of 2022 ending May.